It is with much joy that we share the history of our beautiful Caribbean island home.  And are grateful that you are considering to vacation here.  As part of the United States Virgin Islands, St. Thomas really is America's Paradise.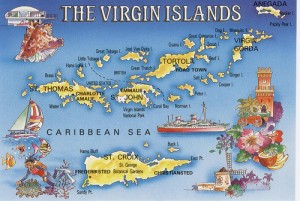 The Virgin Islands are a melting pot of three nationalities:  The U.S. Virgin Islands (St. Thomas, St. John, St. Croix and Water Island and 50 smaller islands or Cays), The British Virgin Islands (Tortola, Virgin Gorda, Anagada and 32 small islands), and the Spanish Virgin Islands (Vieques and Culebra which are part of Puerto Rico).  The close proximity of our islands make us one of the most coveted yachting destinations in the world.   Island hopping is also easy, and land-based tourists can experience a wide variety of cultures during their stay.  And because our waters are fairly sheltered, our beaches are known for their calm waters.
Geography:   The Virgin Islands are located approximately 1,100 miles SouthEast of Florida and 40 miles East of the large island of Puerto Rico, in a chain of islands known as The Lesser Antilles.  St. Thomas itself is fairly small, only 32 square miles – about 3 miles wide by 13 miles long – making it highly convenient to explore and get around.
For a fantastic interactive aerial overview of St. Thomas, please click here.
Three Palms is on the peninsula, known as Peterborg Point, the Northern border to Magens Bay.
Our Towns:  St. Thomas is home to the capital of the U.S. Virgin Islands, Charlotte Amalie.  It has been the heart of St. Thomas' activities from colonial times to present. Historic buildings found throughout downtown Charlotte Amalie take visitors back to the Danish era when the town was a bustling port of trade; while modern additions of taxis, shops, souvenir vendors and cruise ships in the harbor remind that it is tourism that currently drives the economy.  Red Hook, on the East End of the island, is another favorite commercial tourism based town.   We have two cruise ship ports that border Charlotte Amalie harbor, Havensight to the East and Crown Bay to the West.
Airport:  St. Thomas has only one airport, the Cyril E. King Airport (code STT), which is conveniently located just west of Charlotte Amalie and a short 5 mile drive from the villa.
Population:  Our 50,000 residents are quite diverse in terms of nationality, and very friendly.
History:  It is believed the island was originally settled around 1,500 BC and was sighted by Christopher Columbus on his second sailing to America.  The Danish conquered the island in 1666, and divided the land into plantations for sugar cane production.   Areas are still referred to as "Estates" today, and we do not have normal Street Addresses, we go by plot numbers.  As the islands were poorly managed by the Danes, a local islander, David Hamilton Jackson, was instrumental in persuading the Danish to allow the US to purchase the islands of St. Thomas, St. John, and St. Croix.  And in 1917, the U.S. Virgin Islands were purchased by the United States for $25 million in gold, as part of a defensive strategy to maintain control over the Caribbean and the Panama Canal during the First World War.   U.S. citizenship was granted to the residents in 1927.
Driving:  The United States Virgin Islands is the only place under United States jurisdiction where the rule of the road is to drive on the left.   This was inherited from what was the then-current Danish practice at the time of the American acquisition in 1917. However, because St. Thomas is a U.S. territory, most cars are imported from the mainland United States and therefore the steering column is located on the left side of the vehicle.  Don't worry, we our top speed limit is only 35MPH, and you'll grow accustomed to it in no time.  Consider it part of the adventure!   While the island is volcanic in origin, making for beautiful rolling hillsides, and steep cliffs, the roads are very well maintained and paved, making it enjoyable to travel to our numerous attractions.
Weather:  As for our weather, nothing could generally be more perfect!  St. Thomas and the Virgin Islands bask in a typical tropical climate of sun-filled skies, warm temperatures, and refreshing breezes year-round.  Days rarely exceed 90.  Easterly trade winds help keep the weather warm but not hot, making this island a truly comfortable place any time of year.  Please visit our Weather Page for more information.
Attractions:  Whether indulging in some of the world's prettiest beaches, re-discovering history at museums, forts or historic houses, admiring stunning panoramic views via a hike, bike or sky tram, playing a round of golf, making a splash in the invigorating turquoise blue waters, or visiting duty-free shops, St. Thomas has much to enjoy!  Attractions in St. Thomas appeal to both those seeking adventure and those looking for peaceful relaxation.  Please visit our Attractions Page for more information.
For more information and activities, please visit by clicking:
Virgin Islands Department of Tourism
Virgin Islands Hotel & Tourism Association
Photo Credits:Photo credit: Tomcio77 / Foter.com / CC BY-NC