It is with great joy that myself and my team welcome you to America's Paradise and Three Palms Villa.   
My name is Victoria Prehn, and as your hostess and owner of the property, I've been welcoming guests into my home since 2003.  I've been a resident of the Virgin Islands since 1991, moving here after the death of my younger brother and a stop-over on a cruise.  Life is short, and I decided to ditch corporate America for island living.   During an economic downturn in 2000, I luckily stumbled upon the property, and immediately fell in love with her amazing serenity and awe-inspiring oceanfront scenery under an ancient banyan tree.   As a graduate of Cornell University's hotel administration program, the property seemed a perfect way to utilize my education in hospitality.   After extensive renovations, the home was opened to short term rentals in July 2003.   I was one of the very first properties to be listed on sites such as VRBO and HomeAway, in an emerging market of "rental by owner".    It's been an amazing experience to share my love of St. Thomas and my home with hundreds of adventurous travelers from around the world over the past decade.
I reside, with my two cats,  below the main villa level of the property in a two bedroom caretakers apartment.   The apartment is out of view from the guest area and has it's own back entrance.  I like to tell my guests that I'm available as MUCH or as LITTLE as needed during your stay.  I do not wish to intrude on your vacation in any way, and unless my presence is requested after check-in, you will rarely see me, except maybe at the top of the driveway as I go about my daily business, or attending to the pool mid-way through your stay.   And yet,  I'm happy to assist you with anything you might need, and am on-call via text, phone, or a knock on the door.  The benefits of having someone on property is that problems are remedied right away.  Can't figure out the tv remote? No problem! Gas grill seems out of gas?  Instantly replaced!  Toilet clogs?  I have a plunger (and a handyman or two!!).  Need suggestions for dinner?  I'm happy to offer my two cents!   And while you should never feel obligated, at your invitation, I am always ready to share a happy hour cocktail on the deck, answer any questions you might have, and swap a few stories.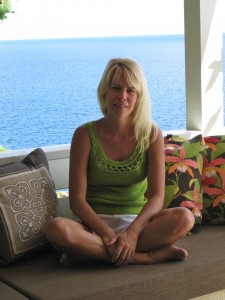 About Victoria: 
Happiness is not a matter of intensity, but of balance, order, rhythm and harmony.
Victoria is originally from Ravenna, Ohio, a small town outside of Cleveland.  She is a graduate of Cornell's School of Hotel and Restaurant Administration.  Following graduation, she spent four years between New York City and Dallas as a Market Study and Real Estate Consultant with Kenneth Leventhal and Company for clients such as Donald Trump, Ritz Carlton and Lomas Financial Group.  Corporate burnout and a death in the family inspired a move to St. Thomas, and for twenty years she served as founder and president of PC Paradise, the Apple and Hewlett Packard computer dealer to the Virgin Islands.   She sold the business in 2012, and now spends her time providing life coaching and business consulting to entrepreneurs, inspiring and teaching web design and accounting principles.  She is also a 250 hour certified yoga teacher, and shares her philosophy studies and wellness tips via two mind-body wellness blogs.  In the mornings, you may catch her meditating on the sunrise, which she posts out to her blog every day, along with quotes and positive energy.  She hopes to maybe publish them into a book and digital screensaver someday.  Victoria is a longtime vegetarian, now vegan, and is happy to share plant based recipes and lifestyle tips to anyone interested.  You can find out more about Victoria via her website:  VictoriaPrehn.com.
Part of the welcoming committee are my two cats:  Gabby and Namaste.  Gabby, the talker, loves new people and will be right there with us for check-in.  She loves petting, and she loves treats.  Namaste, is a bit more skeptical, but after a few handouts, he too is as sweet as can be.  They love to try to catch lizards, with Gabby supervising, and are fun to watch as they scamper about and play in the trees.  While they love to play outdoors, they "reside" in the caretakers unit and are kept out of the villa.  So if you are not a cat lover, no worries.  Cats are very good at figuring out when they are welcome and when they are not.
I'm so happy you found us, and we all look forward to meeting you!
Guest Fill-In Caretakers: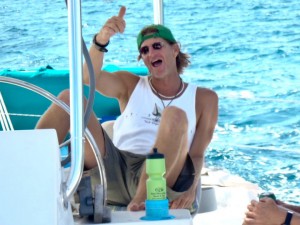 Spencer Dickey (will be off island Mid-June to Mid-Nov 2015):

Spencer has been helping Victoria with Three Palms, since it's inception in 2003.  Spencer grew up between rural Alabama, South Dakota and Creve Coeur, Missouri, outside of St. Louis.  Spencer graduated with a Business Photography degree from Missouri State University (Mizzou!!!), and spent a number of years post-graduation aboard the cruise ships as a chief photographer.  While cruising, Spencer learned how to sail and now holds a 100 ton Master Captains License with the USCG.   He bought a sailboat, named her Happy Hour, and sailed her to the Virgin Islands in 1993.  For the past 20 years, he's been offering day sails aboard his boat, Happy Hour, and the trip is often noted by guests as the highlight of their trip.   We hope you'll join him for a fun filled day at sea, swimming with the sea turtles!  In his spare time, he enjoys running, and has participated in many local races, half-marathons and a few tri-athalons.  He enjoys gardening, and is happy to share his bumper crop of fresh herbs and hot peppers.    You can find out more about Spencer and Happy Hour Charters at SailHappyHour.com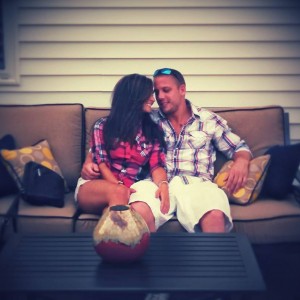 Josh Bromberg & Danielle DiGuida (August-September 2015):
Josh & Danielle were some of the first guests at Three Palms through AirBnB.   They too fell in love with Three Palms and St. Thomas, and after caretaking for me in the summer of 2014, they'll be back to tend to the property and our guests in 2015.  They plan to permanently relocate from St. Louis to the Virgin Islands this fall.
Josh is a personal trainer and plans to provide villa maintenance services upon their relocation.   Danielle loves animals, holds an equestrian degree, and has held many positions in the hospitality industry.
They look forward to meeting you!