Surrounded by the warm waters of the Atlantic Ocean and Caribbean Sea, St. Thomas and the Virgin Islands bask in a typical tropical climate of sun-filled skies, warm temperatures, and refreshing breezes year-round. Easterly trade winds help keep the weather warm but not hot, making this island a truly comfortable place any time of year.
The true Latitude and Longitude for Three Palms Villa is:

Latitude: 18.373183

Longitude: -64.92425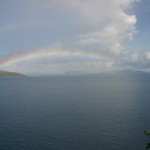 High Season (Thanksgiving – April):  In January, while most of America & Europe endure the chill of gray skies, visitors to the island in January will enjoy summer like warmth, with daytime highs in the low 80's.  Sunshine is dominant, though scattered clouds may produce a very brief shower.  While it may sound like you will need an umbrella, winter showers are usually brief and light, leaving plenty of bright blue skies in their wake.  After sunset, expect mild nighttime readings in the low-70s, often with a crisp breeze (be sure to pack a light sweater).  Our oceans are a refreshing upper 70s to low 80s, perfect to cool-off your suntanned bodies.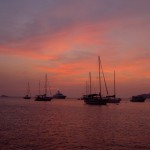 Mid Season (May – August):  As spring & summer approach, the frequency of more-intense rain showers and gusty winds increases as tropical waves traverse the region. Temperatures climb into the upper 80s most days, but only surpassing the 90 degree mark on rare occasions.  We have never hit 100 degrees!  Nighttime lows are in the lower 80s to upper 70s.  The most common misconception about the West Indies is that it must be much hotter in summer than it is during the rest of the year. In fact, the average monthly temperatures remain remarkably stable, varying only by 5 degrees year-round. This stability can be attributed to the tradewinds, which bring refreshing breezes from the northeast throughout the year.  Ocean temperatures rise only slightly, into the mid 80s.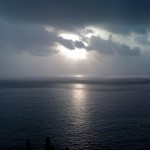 Tropical Storm Season (primarily September):  Hurricanes may occur any time from June through November.  However, the most likely months for a storm to effect the Virgin Islands are August and September.  We have never experienced a storm in June, and a very rare handful in July, October and November.  Progressive technology brings more sophisticated storm warning systems every year. It is unusual for any one island to be severely affected more than once or twice every 10 years and your actual odds of experiencing a hurricane are very low.  The last major storm to affect the Virgin Islands was in 1995, with Hurricane Marilyn. Some travelers purchase trip cancellation insurance in advance of travel, particularly during the most active period of the hurricane season.  Three Palms Villa closes for maintenance during the month of September, our prime tropical storm season.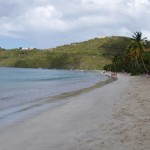 Slow Season (October and November):    This can be a fantastic time of year to visit the Virgin Islands, and we offer super discounts during these months.  Cruise ship traffic is significantly reduced, so you'll find many of our most popular attractions less crowded.  You'll have Magens Bay Beach pretty much to yourselves during the week!  Merchants also offer discounts on jewelry to drum up business, so duty free shopping is at it's best.  And there is little need to make restaurant reservations.
Local Weather Links:
Local Forecast  (scroll down to the lower right – Additional Forecast, Forecast Discussion for details)
Additional Links should there be a threat of a Tropical Cyclone:
Wunderground Tropical Weather Information
Dr. Jeff Masters Tropical Forecast
Super Dave's Forecast on Storm Carib